Healthy microwave recipes to help you through home renovations
If you're worried about keeping to your diet during your home renovations, we've got you covered with our list of healthy microwave recipes that are delicious and easy to make.
We all know the difficulties of getting on with daily life through chaotic home renovations. It's way too easy to grab a meal from the local Chippy or Chinese but you need to stop right there, remove this thought from your mind and remember the holiday you booked later this year… You want to be bikini ready right?
Don't worry; we've got you covered, we've created a handy list of simple, microwavable recipes to get you through those stressful few weeks (or months) without eating too unhealthily and piling on the pounds. These microwave meals are ready in a matter of minutes so you can quickly return to your renovation project. After all, eating healthily will save you money, give you more energy and enhance your overall wellbeing.
If this isn't your home renovation food bible then we don't know what is… You can thank us later.
Jambalaya
Ingredients
400g can chopped tomatoes with garlic
200g of easy-cook rice
1 red pepper, seeded and chopped
200g chopped and skinned chorizo
2 handfuls of frozen sweetcorn kernels
A large sprinkling of Cajun seasoning
A small handful of parsley, chopped
142ml tub soured cream
Method
Empty the can of tomatoes into a large microwavable dish before measuring out the same amount of easy cook rice and mixing into the bowl. Add 300ml of water before stirring in the pepper, sweetcorn, chorizo and seasoning.
Cover the bowl with a sheet of cling film with holes pierced to allow steam to escape and microwave for 10 minutes at 750w.
Remove the cling film and stir before continuing to microwave for a further 12-15 minutes until the rice is fully cooked.
Allow to stand for 5 minutes so that the Jambalaya finishes cooking before stirring in parsley and topping with sour cream.
Kale & chilli eggs
Ingredients
Handful of finely chopped kale
½ small red chilli, deseeded and chopped
200g chopped tomatoes
2 medium eggs
Squeeze of lemon juice
Method
Mix the chopped tomatoes, kale and chopped chilli in a bowl with a pinch of salt and some lemon juice.
Make a well in the centre of the mixture and tip the egg whites into the centre
Cover the bowl with cling film and cook on medium power for 40 seconds
Allow to stand before continuing to heat for 45 seconds longer
Add the egg yolks to the bowl and then return to the microwave for a further 40 seconds
Once cooked, add salt and freshly cracked black pepper to taste and serve
Risotto primavera
Ingredients
350g arborio rice
175ml dry white wine
850ml hot vegetable stock
500g frozen peas
100g pack asparagus tips
100g soft goats' cheese
Handful of mint leaves
Method
Add the rice to a large microwaveable bowl with about a third of the vegetable stock and the white wine.
Seal the bowl with cling film before microwaving on full power for 190 minutes.
Remove from the heat, stir in another third of the stock before continuing to cook for 3 minutes.
Add the asparagus, the frozen peas and the remainder of the vegetable stock before re-covering and cooing for a further 7 minutes.
Once cooked, stir in the cheese and roughly torn mint leaves before leaving to stand for 2 minutes and serving hot.
Scrambled egg mug
Ingredients
2 Free Range medium sized Eggs
1 tbsp light soft cheese with chives
1 tbsp semi-skimmed milk
4 cherry tomatoes
2 slices of toasted bread
Method
Whisk the milk, eggs, and soft cheese together in a large mug.
Quarter the cherry tomatoes and add to the mixture
Place in the microwave and cook 30 seconds before removing and stirring thoroughly
Repeat this process 2-3 times until the eggs are scrambled to your liking
Serve with buttered toast for a hearty breakfast
Egg Fried Rice

Ingredients
1 cup cooked jasmine rice
2 tablespoons frozen peas
2 tablespoons chopped red pepper
1/2 stalk of green onion, sliced
small pinch of mung bean sprouts
small pinch of shredded purple cabbage
1 large egg
1 tablespoon low-sodium soy sauce
1/2 teaspoon sesame oil
1/2 teaspoon onion powder
1/4 teaspoon five-spice powder
Method
Put the rice into a large mug and cover with cling film. Pierce to allow steam to escape and microwave on full power for 1 minute and 15 seconds.
While the rice is cooking, beat the egg and mix in the flavourings (soy sauce, onion powder, five-spice and sesame oil).
Remove the rice from the microwave and mix in the vegetables and egg mixture, stirring thoroughly.
Re-cover the mug and continue to cook for a further 90 seconds, before removing from the heat and allowing to stand for a minute or so.
Stir through the rice with a fork to separate the grains and serve
Microwave peanut butter & jam brownies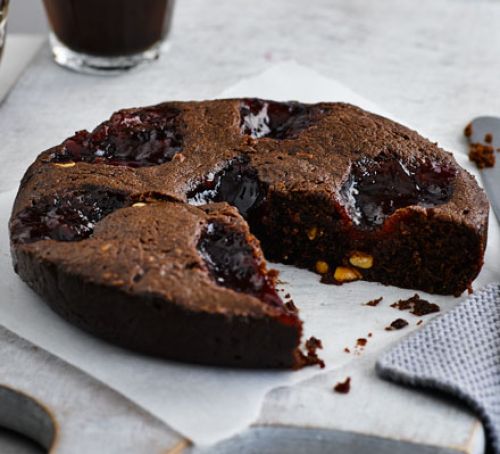 Ingredients
50g peanut butter
50g plain flour
100g sugar
75g butter, plus a little extra for greasing
25g cocoa powder
1 egg
Few tsp of jam
Method
Mix the peanut butter with the butter and microwave on full power for 30 seconds to melt together.
Remove from the oven and mix together
Once the butter has cooled slightly, add the egg so that it doesn't cook, and then stir together
Grease a microwave safe dish with butter and mix the butter and egg mix together with the cocoa powder, flour and sugar. Blend the ingredients into a sticky paste
Smooth the top of the mixture with a spoon and make small holes before filling with Jam
Place the dish into the microwave and cook on full power for 3-4 minutes
Allow the cookies to stand for 15 minutes to complete cooking
Apple Crisp
Ingredients
2 tablespoons chopped pecans
2–3 apples (about 2 cups chopped)
3 tablespoons coconut oil
1/4 cup quick oats
2 1/2 tablespoons whole wheat flour
2 1/2 tablespoons brown sugar
1/2 teaspoon cinnamon
pinch of salt
honey for drizzling
Method
Start off by melting the coconut oil in the microwave
Stir in the oats, chopped pecans and 2 tablespoons of flour and 2 tablespoons of sugar
Mix together before stirring in ¼ tsp cinnamon and a pinch of salt ensuring that all ingredients well coated with oil
Chop up the apples and toss with the remainder of the flour, sugar and cinnamon to ensure that they are well coated
Spoon a layer of the oat mixture into the bottom of a mug or ramekin before adding a cup of chopped apples
Microwave for 3 and a half minutes until bubbling hot and leave to cool before drizzling with honey to serve!